In the small logging town of Blackmar, Michigan during the middle of the Great Depression the Judd Insurance Agency's long history began. During a huge blizzard early in the year 1931, Carl Nuechterlein, then President of Frankenmuth Mutual, was returning home to Frankenmuth by train.  Carl had been out of town on business purchasing re-insurance for Frankenmuth Mutual Fire Insurance Company.

Upon his return he encountered the snow storm when he exited the train in Blackmar.  The weather was so bad he could not make the six mile trip back to his home in Frankenmuth.
George M. Judd, local farmer, offered to put Carl up for the night in his home across the street from the train depot. Carl and George engaged in many discussions throughout the evening and during breakfast the next morning.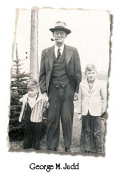 During those discussions Carl realized George's relationship with the members of the community and his involvement in business. Carl invited George to come by his office in Frankenmuth and consider becoming an agent with Frankenmuth Mutual. Later that year, George met with Carl at his office in Frankenmuth and started the George M. Judd Agency.
For the next 20 years George operated the agency and also farmed the 160 acre family farm.
In 1951 George's son William (Bill) M. Judd joined the agency full time.  During this time period the Judd family also operated insurance agencies throughout the state.

Raynard A. Judd had an office in the Second National Bank building in downtown Saginaw.
Taylor Judd had an office in Alpena in northern Michigan. Both George and Bill focused their efforts on serving the communities of Saginaw County. George enjoyed providing protection to families so much that he worked in the agency until his death in 1951.

In 1963 George's grandson William (Abe) A. Judd joined the agency.  Abe attended the Aetna Casualty Insurance School, and graduated in 1965.  Abe's brother, George F. Judd, joined the Agency in 1974. Through out the 1960's and 70's the agency expanded its markets by partnering with Auto-Owners Insurance company in 1969 and Hastings Mutual in 1972.

80 years after the snow storm in Blackmar, the Judd Insurance Agency still operates in the same office where it began in 1931. The agency today has two locations, operates in four states, and represents over 30 companies.
The Judd Insurance Agency will always remain committed to the customers it serves, the community in which it is involved, and the companies it represents.